Maybe more accurate to say this charismatic bubble car had its origins to thank from flight technology? The Messerschmitt KR175 and KR200 beginnings are due in part to a clever and resourceful aeronautical engineer employed at Messerschmitt AG Corporation, Fritz Fend.
For 10 years after World War II, the Messerschmitt Corporation was not permitted to manufacture airplanes. With the pending doom of an airplane production plant not being able to produce planes, the innovative thinker Fend boldly presented his idea to create an economical and aerodynamically designed bubble car. Not too shocking that the car should feature such aerodynamic qualities as it is getting built out of plant that creates planes. And planes glide through air-- duh.
the charismatic bubble car engineered by Fritz Fend
It was agreed to produce these unique vehicles in an attempt to save the company. With over 12,000 of the KR175 being produced in the first year, it was considered an overwhelming success and helped prevent the plant from looming bankruptcy. (Side note, the Messerschmitt Corporation was also creating prefabricated houses in addition to the KR175/KR200 automobiles.)
The KR175 would soon be followed by the KR200 which aside from body work and appearance was a complete redesign. The KR200 featured completely new designed rear suspension, engine mounting, hydraulic shock absorbers on all three wheels, and an increase in tire size.
Eventually West Germany joined forces with NATO and with that agreement Messerschmitt was permitted to go back to manufacturing planes. Fend would however carry on producing the dependable bubble car till 1964 in which purchase demand faded with the economy was booming and a public inclined to larger vehicles.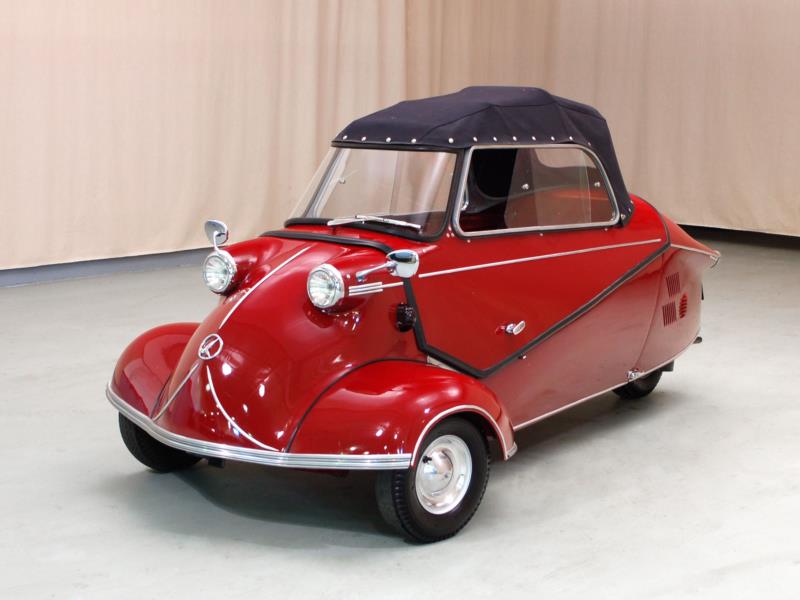 A total redesign in all things except for bodystyle
The Bad Blonde aka Caitlin Shook has grown up in the mechanic shop world. Shook Enterprises is a south Texas automotive repair shop that focuses on the antique, classic, rare, awesome, and sometimes just plain hard to fix vehicles.
An avid fan of travel and adventure, she's popped into every car MUSEUM and car SHOW + AUCTION she can along the way.
She began an arduous car restoration of a 1976 Porsche 912e at the age of 14 and she's not stopped loving difficult cars since. Enjoy the journey with The Bad Blonde!